CURRENT FIRE RISK

- LOW - Burning is allowed from Daylight to Dusk with current burning permit.

SEE ADDITIONAL DETAILS AND BURN REGULATIONS HERE
-
WY'EAST FIRE DISTRICT
VOLUNTEER FIRE & EMS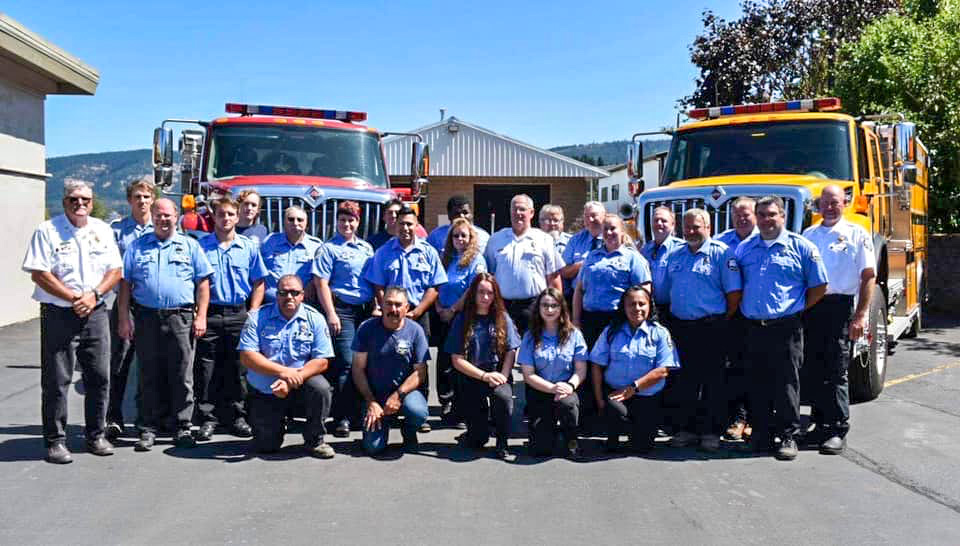 REGULAR MEMBERSHIP INFORMATION
The Wy'East Volunteer Fire & EMS volunteers are organized to provide emergency fire and medical services within the Wy'East Fire District. The Wy'East Fire District is supported by local property tax assessments. The District provides all equipment, individual gear and facilities for the volunteers. The District is governed by a five-member board elected by the residents of the district. The board hires the Fire Chief. The Chief and Assistant Chiefs are responsible for the operation of all emergency and regular business services. The volunteer executive officers of the department are elected annually. The volunteer organization conducts social events and other functions of benefit to members and to the community.
The monthly activities of the Department are as follows:
First Wednesday – Truck check.

Second Wednesday – Business meeting.

Third, Fourth and Fifth Wednesday- Fire training and/or EMS.
GENERAL MEMBERSHIP REQUIREMENTS
To be a regular member of the Wy'East Volunteer Fire & EMS Association you must:
Be at least 18 years old.
Reside within one mile of the Wy'East Fire District.
Provide your own transportation and vehicle liability insurance.
Be willing to abide by the by-laws of the Fire Department and standard operating guidelines (SOG's)/policies of the Wy'East Fire District.
Complete a 180-day probationary period.
Complete the Firefighter 1 Academy and have CPR/First Aid cards as soon as possible.
Have a valid Oregon Drivers License.
Be willing to submit to a character background and driving record check.
Not have been convicted of a felony or any crime that is related to emergency fire and medical service.
The membership application process has the following requirements:
For regular membership or student membership, an application form must be complete and accurate and submitted to the Chief.
The membership committee will conduct the background checks and schedule a personal interview.
The membership committee will determine if an applicant (regular or student) is accepted as a probationary member or lateral transfer, or rejected for membership.
The application, if accepted, will be posted at the Fire Station for review by all members for a period of 30 days.
During the probationary period, the member will be interviewed and checked for participation in the department.
Application forms can be obtained from the Fire Chief at the Odell Station (541-354-1648) or through any Officer of the Wy'East Fire District.
Get in Touch
If you'd like to send us a non emergency question or comment use our contact form. We will respond as quickly as possible. To reach us by phone call: (541) 354-1648.
For emergencies only call 911
Station Locations
ODELL
3431 Odell Highway
Odell, OR 97031
541-354-1648
PINE GROVE
2995 Van Horn Drive
Hood River, OR 97031
541-386-2900